CASE STUDY RESULTS
Optimized Decisioning Proven to Reduce Warehouse Expense
While interest rates rose rapidly, our client was able to reduce warehouse expense by nearly 2.65 bps and saved $710,949 over 23 months (or $30,911/month on avg.).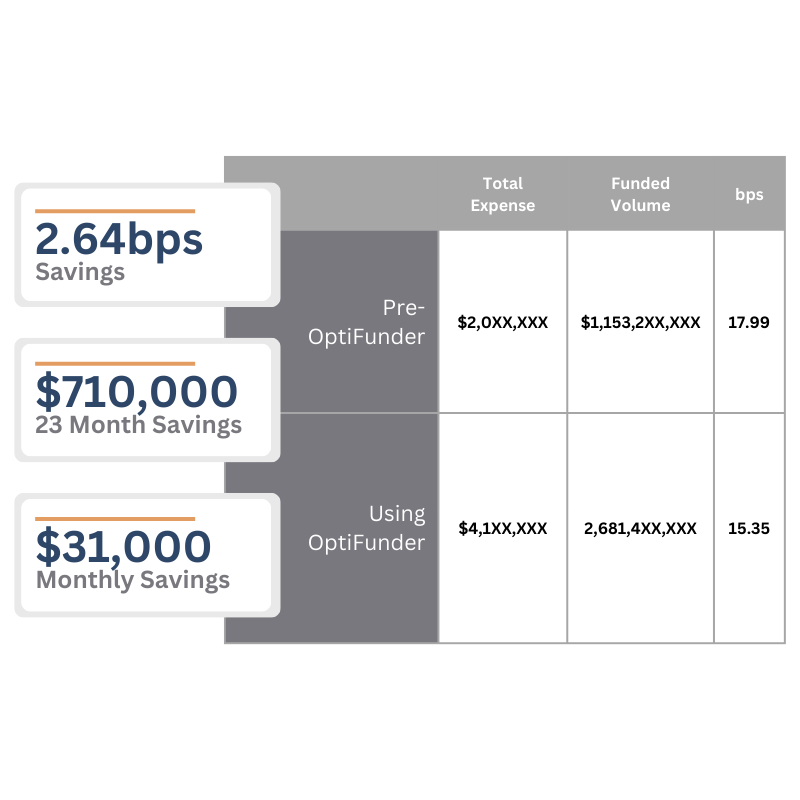 KEY INSIGHTS
Client Experienced Significant Savings
Reduced Funding Expense
Reduced funding expense by an average of $30,911/mo.
Saved 2.65 BPS%
Savings of 2.65 bps% of funding expense.
Annualized Savings
Optimization savings of $370,929 annualized.
OVERVIEW
Optimized Decisioning Reduces Warehouse Expense by 8-10%
OptiFunder, the industry's only Warehouse Management System (WMS), combines automation for all funding and loan sale tasks with an optimized warehouse decision engine.
Previous studies have shown OptiFunder's optimized decisioning reduces clients' warehouse expense by an average of 8-10% by using patent-pending algorithms and AI/ML technology to help clients make better informed, dynamic decisions to achieve strategic objectives. We conducted a pre-/post- cost comparison study of a client following a successful onboarding. The study was completed after 23 months of funding on the platform. Herein, we review the study parameters, results and key takeaways.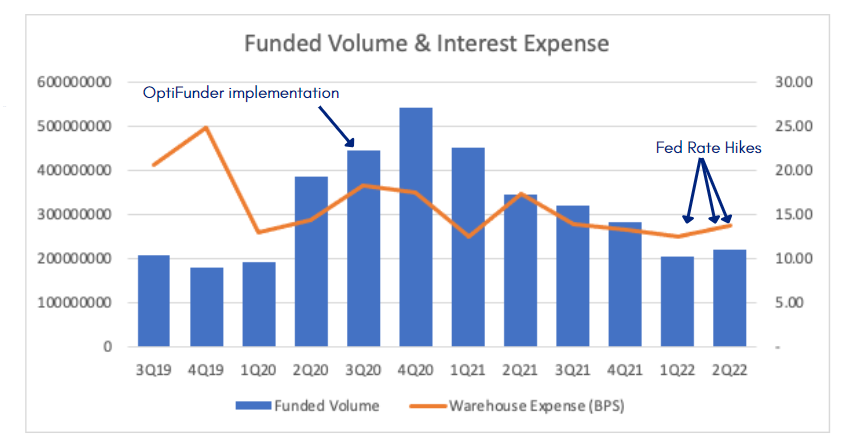 STUDY PARAMETERS
Achieved Lowest Cost of Capital for Independent Retail, Mortgage Lender
Loan-level warehouse expense data access was provided by client to OptiFunder covering the periods of January 2019 – June 2022. The data included interest expense, fees, non-use and rebates. Client began using OptiFunder decisions August 2020. The pre-OptiFunder period is defined as January 2019 – July 2020 and the post-OptiFunder period is defined as August 2020 – June 2022.

This study doesn't include additional savings achieved via OptiFunder platform automation/FTE resource savings.

The client is an independent, retail mortgage lender licensed in 37 states. Average monthly volume funded during the period was $101.7mm, utilizing five warehouse facilities.

The OptiFunder WMS has a rules-based decision engine which enables originators to optimize decisions to meet strategic objectives such as maximizing ROE, meeting specific funding targets or achieving the lowest cost of capital. For this study, the objective was to achieve the lowest cost of capital.
KEY FINDINGS
The number of FTE resources used for Funding processes was cut by 2/3 from 3 to 1.